The insurance industry is working on digital process optimalisation. They are learning a lot: how can we develop new business models and special new service models, to support the needs of clients and to achieve the "heart of customers".
For this purpose they use a design thinking approach, analyzing trends and using business model canvas. But they shouldn't learn only methods, but also how new technologies like artificial intelligence, blockchain, internet of things or predictive analytics work. This combination is very important to be "fit for the future", to be a digital leader!
Because the digital leaders will be the winner and as you know "the winner takes it all"!  I think, most of our challenges are coming from the complexity of digital transformation and the complexity of the insurance branche. How should we start? Should we start with processes, products, organization, clients or employees? Should we cooperate with a startup or should we be a startup, as digital insurer or should we found a venture and invest in startups? I realized, there are so many questions and also so many ideas developing step by step the digital insurance DNA for the next generation. As you know, today, to develop a digital approach, to change your legacy system, to develop your culture and organization, to "teach" your clients to use your apps. It takes time to see the results and appropriate profits. If you invest into the future, you need enough resources (time, money, quality) to develop a long term perspective. The insurance industry is only on the starting point of this transformation journey.
I`ve prepared an "insurance landscape" about the status of startups and insurance companies/corporate ventures from the perspective, whether they are cooperation or competition.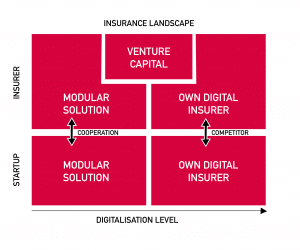 Our exponentional developing business life required a exponentional learning developing.
The insurance world was very closed world. From closed value chain from developing new insurance products, through sale the product and in case of damage regular the claims.
But the technology is supporting us to do our process more efficient, quick, to develop more customer convenience. Our InTa – Insury Talent Network supports young (re)insurance professionals & brokers to understand the new insurance innovation world and act like a "Champion".
The insurance industry has the power to do the right things in the right direction with understanding the customers, education talents, develop the right vision, strategy and company culture, use the most important technology. If your "Innovation House" ready is, you can do your job with passion and enthusiasm every day. Are you ready to understand and create a great insurance industry together?!
Author: Erika Krizsan | Managing Director | Insurance Factory Innovation Store /Austria
www.inta-network.com | www.insurance-factory.eu